News Headlines
HOW TO ORGANIZE A SUCCESSFUL EVENT


---

More News
US IMMIGRATION & NEWS

What happens in a Deportation Hearing?
Nursing Relief Act of 2009
Removing Green Card Conditions pending divorce
BEAUTY AND FASHION

Get Glam! Brings beauty and fashion experts to Palm Beach
Miss Universe 2010 announced
Eco-friendly swimwear fashion show announced
---
---
JOB ANNOUNCEMENTS
Full Time Live-In Housekeeper Needed
Location: Boca Raton

Residence Duties Include: Overall cleaning, dusting and upkeep of house, laundry and ironing. Some grocery shopping and light errands may be needed on a weekly basis. Looking for an honest, reliable, energetic, very clean and extremely organized person with a good, happy disposition and pleasant manners; must be a non-smoker. Experience working in a large home and previous work references are a plus. I offer good pay and a nice, quiet environment, private bedroom & bath. Position is available immediately on a trial basis.

Please contact Alexandra at 561-447-7711.
You may also email your resume at alexandra@karram.com or fax it to 561-981-8550.

---
LIVE OUT NANNY - MIAMI BEACH AREA

This will be a full time, live-out position
from Tuesday to Saturday.
The position includes childcare and light housekeeping
Must have prior experience with babies under 12 months,
speak english, and non smoker
MUST HAVE REFERENCES

Call 561 305-9500 OR email
dbutters@bellsouth.net
NOW HIRING
•

C R E W



•

PASTRY MAKER


CHARLEYS GRILLED STEAKS

Sawgrass Mills Mall (Food Court)
Sunrise, Florida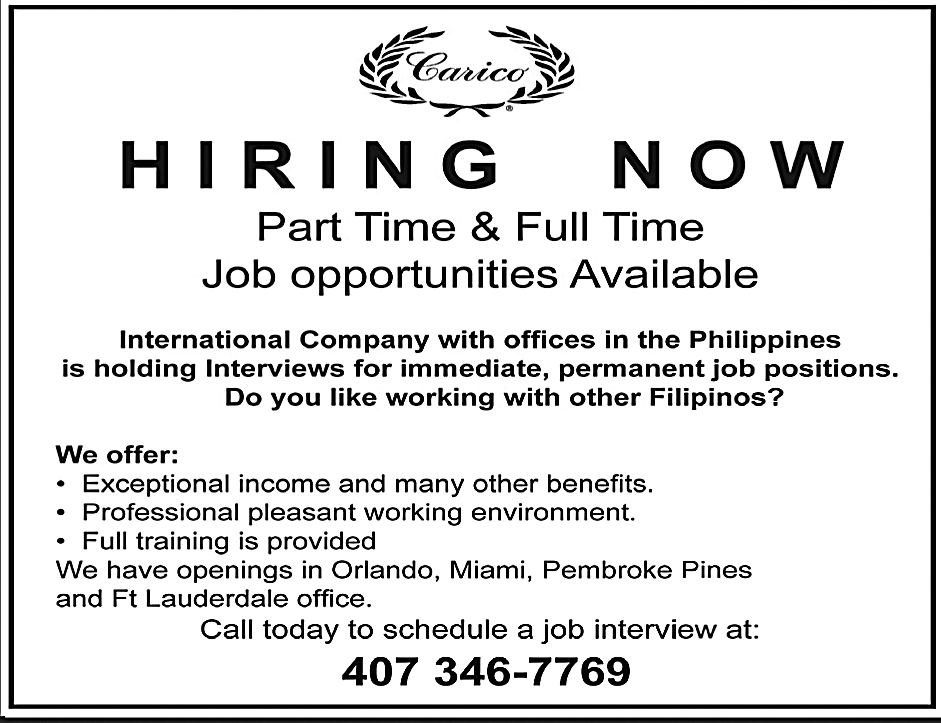 ---